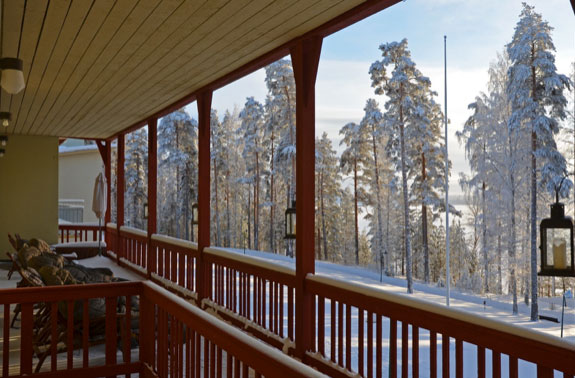 Seal Sleeping
This guided relaxation is also a tribute to the history of Kruunupuisto. Originally called "hallimakuu" i.e. sleeping and resting on the outdoor terrace, it was a good form of treatment in the past for tuberculosis patients along with good food and outdoor exercise at the Kruunupuisto sanatorium. The term "seal sleeping" comes from the sleeping bags, which make you look like a very rare Saimaa Ringed Seal. This relaxing exercise will take you into the midst of nature to breath and feel the fresh ridge air. On the sun terrace of Kruunupuisto by the picturesque forest and lake view, we hear the wind humming, allowing all our thoughts to just come and go, feeling the relaxation in the whole body.
Sauna
Sauna is such a big part of Finnish culture that it can't be compared to anything else. In fact, "sauna" is the only Finnish word that has been internationally accepted in other languages. Inkeri's sauna is a picturesque and beautifully restored 1920s wooden-built lakeside sauna right by the lake. A cosy seating area with a fireplace, two dressing rooms, a washroom and a steam room with wood burning stove, its own terrace and a dock for swimming provide an ideally relaxing setting for get-togethers. The traditional Finnish sauna experience in Kruunupuisto includes an introduction and guide to this pure Finnish physical and mental experience where the mind and body find harmony. You can take part in sauna heating while you learn about this integral part of Finnish lifestyle and culture. You will hear about the history and health benefits of this very relaxing Finnish tradition while experiencing it.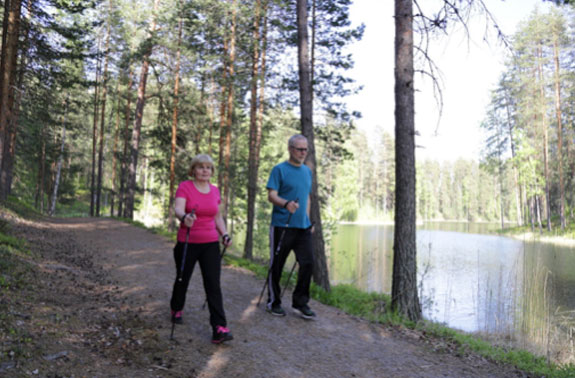 Nordic Walking
Nordic walking is one of the most popular sports in Finland: as many as half a million Finns go for Nordic walks once a week, and one and a half million have tried the sport. This special sporting activity was developed in Finland and has spread all over the world. Nordic walking instructors are already available in about 40 countries, and it is one of the fastest developing leisure activities in the world. Nowadays there are already nearly ten million enthusiasts and it is currently spreading to major countries such as the United States and China, so significant growth is expected in the coming years.
Nordic Walking is a form of physical activity where regular natural walking is enhanced by the addition of the active use of a pair of specially designed Nordic walking poles. Nordic walking is safe, natural, dynamic, efficient and suitable for all forms of physical activity, and trains the body in a holistic, symmetrical and balanced way. The Punkaharju Nordic Walking Park combines history, culture and exercise in unique ridge setting amidst forest and lake scenery. Nordic walking is the ideal way to experience Punkaharju at its best in the summer. The trails include alternatives for all ages and fitness levels, and no previous experience is required. At Kruunupuisto we have specialised and licensed Nordic Walking Instructors.