INKERITALO
Idyllic log house Inkeritalo is a perfect place for private events all year round. In summer, Inkeritalo is open every day as a nostalgic waffle cafe, serving the famous Inkeritalo waffles, soup lunch and sweet delicacies with coffee. The terrace of the café offers a beautiful view of the lake Pihlajavesi. The café has an annual art sales exhibition and a small shop where you can buy delicacies and take them home.
The historic Inkeritalo serves as a conference room and a restaurant for private events all year round. The beautifully renovated and uniquely atmospheric log house is a great place for small family celebrations, Christmas parties, business events or meetings. The charming two-storey house can accommodate a total of about 80 people.
There are four meeting rooms, each with a capacity of 12 to 25 people.
There is also a charming log sauna in the courtyard of Inkeritalo where you can enjoy the traditional Finnish sauna experience by the lakeside.
The sauna has a living room with a fireplace, two dressing rooms, a washroom and a sauna with a wood-burning stove. The sauna also has a private terrace and a pier for swimming. Restaurant Kruunupuisto delivers refreshments and meals to the sauna according to customer's wishes or dinner can be arranged in the comfortable rooms of the Inkeritalo.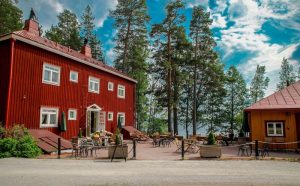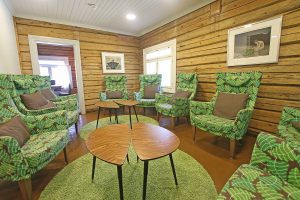 Experience Finnish sauna in Kruunupuisto
Relax in the gentle steams by the shores of Lake Saimaa. In Kruunupuisto you can enjoy this favorite hobby of Finns in several different saunas. For your private sauna evenings you can also order sauna meals and snacks from our restaurant according to your wishes.
Read below for instructions and tips for having a sauna in the Finnish way!
The sauna is an integral part of the Finnish lifestyle and culture. In fact, "sauna" is the only Finnish word that has been internationally accepted in other languages. Finnish sauna is for cleansing and relaxing. Make sure you drink plenty (water) because you're probably sweating a lot! Taking a sauna is also about socialising with others and sauna evenings are common among friends, neighbours and work colleagues. Studies have shown many positive health effects of sauna due to the relaxing heat and steam, but also from a social perspective. In general, families go to sauna together and in groups women and men go to sauna separately. Finns prefer to take saunas completely naked, even among strangers, and nudity is perveiced as natural. If you prefer to wear a swimsuit or towel, you have every right to do so, though.
Try our guided Finnish Sauna experience! In Kruunupuisto traditional Finnish sauna experience includes an introduction and guide to this pure Finnish physical and mental experience. You will hear about the history and health benefits of this very relaxing Finnish tradition while experiencing it in our picturesque and beautifully restored 1920s wooden-built lakeside sauna right by the lake.