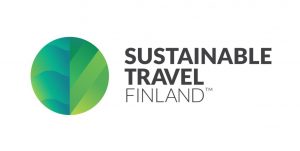 Kruunupuisto is located in the Punkaharju national landscape, in the middle of valuable water and ridge nature, which creats a framework for our sustainability. We are committed to the Sustainable Travel Finland program by Visit Finland, promoting sustainable practices in the Finnish tourism industry. Kruunupuisto met the criteria and was awarded the Sustainable Travel Finland label in June 2021 as a sign of its goal-oriented and long-term work towards sustainability.
Our environmentally friendly operations have already been certified with the international Green Key label. The Sustainable Travel Finland program continues our actions towards responsibility also in social, cultural and economic aspects of sustainability.
Responsibility is reflected in our daily activities, such as recycling, more efficient use of energy, accessible services, equal encountering of our customers, supporting locality and maintaining historical valuable buildings. Domestic foundation ownership creates the basis for our socially responsible business. We encourage our staff and customers to be environmentally responsible by preserving the natural and cultural heritage.